ebook & print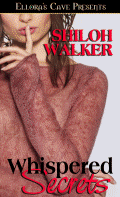 print collection
Whipped Cream & Handcuffs
Silk Scarves & Seduction
One of the Guys
Whipped Cream & Handcuffs
Tessa was all set. She was engaged to marry the perfect man. He was rich, great looking, and a doctor. Then, on Valentine's Day, the gift basket came. Filled with handcuffs, naughty toys, and the like.
Not long after that the letters started coming. Then the phone calls. Her perfect fiance wasn't looking so perfect any more.
A late night breaking and entering convinces her of that when her secret admirer comes to call, and show her just how completely she belongs to him—only him—body and soul.
Silk Scarves & Seduction
When Marc's birthday present arrived—a silk scarf and black-and-white photographs of a nude woman—it only took him a few minutes to figure out to whom that body belonged.
After all, he had been in love with Blush Taylor since high school; the girl had driven him crazy with her pranks for years.
What Marc couldn't understand was why she was sending these pictures now. She was probably just toying with him again, as usual. It would be too much to hope that she would feel the same attraction that he has for all these years…
One of the Guys
Jaynie knew that her fiancé had some serious ménage fantasies going on, but she never expected to catch him acting them out. As if that pain isn't enough, he tells her she couldn't be a real woman if she tried. Reeling from the double blow, confidence shattered, Jaynie turns to Brian, her sexy partner at work. One night, she tells him. She wants one night with him, no strings attached.
Brian feels plenty of strings and it's as if all of them are pulling him toward Jaynie. She's sexy, she's funny and she haunts his dreams. Memories of that one night keep him awake and he's dying for another taste of her.
But Jaynie doesn't seem at all interested. What's a man to do?
Whipped Cream and Handcuffs
There was another letter, sitting there on her desk. She felt her heart skip a beat as heat pooled low in her belly. Glancing around, she made sure nobody else had seen it. More instinctive than anything, since she was usually one of the first ones in the office.
Slowly, her hands shaking, she reached out. A poem this time? Another short story that would have her quivering and ready to beg for climax?
Nope.
Not this time.
This time it just read, Soon.
Holy shit, he had meant it.
Whoever it was that called her late at night, whoever it was that left these dirty little stories, or romantic poems, was going to finally come out and meet her. Face to face.
The first letter had come nearly four months earlier, on Valentine's Day, with a basket that held some interesting little items. A pair of cloth restraints, like handcuffs, but made of soft material that wouldn't cause pain. A feather. A bottle of massage oil.
A can of whipped cream.
And a magnet.
The magnet had read
You.
Me.
Handcuffs.
Whipped Cream.
Any questions?
Since then, only the stiff ivory envelopes made of a heavy bond paper that had linen in it. The writing was all handwritten and looked familiar, but she couldn't place it. Sweeping, rather elegant looking, especially for a man.
A month after the letters had started, the phone calls had begun.
She rubbed her left hand nervously against her pants, the ring on her finger flashing at her mockingly.
The letters had started less than a week after Tyson had proposed. And when she told, rather reluctantly, the mystery man, who refused to give his name when he called her, he had only responded, "The man isn't right for you."
She suspected the letters had started because of the proposal. And she also suspected her mystery man was right. Just reading his letter left her more turned on than foreplay with Tyson. Very tepid foreplay, at that.
If just his letters, his voice were enough to make her cleft wet and aching, what would touching him, him touching her, be like?
She was going to find out.
But maybe she should tell Tyson.
Silk Scarves & Seduction
His hands were sweating.
A pulse was throbbing viciously in his temple, and his throat was tight.
Marc hadn't ever been so damned turned on in his entire life. And all he was doing was looking at pictures.
More pictures.
The scarf was red lace this time. It was covering her pussy in one, the open weave of the pattern showing enough skin that Marc could tell she most likely shaved or waxed. She had draped herself over something so that all he could see were her thighs, her covered cleft, and her belly, before her torso arrowed back and down, out of sight.
Then another, with the position reversed. And her fine, fine ass was showing, the scarf lying diagonally, from one shoulder down across her back to the opposite hip. But he couldn't even see her neck, not the color of her hair, not anything. Just from her shoulders to her ass.
Then a profile shot and she had used the scarf to bind her breasts.
And oh fuck, she had one hand buried between her thighs. He could see her fingers glistening in the light, and almost hear a moan rippling out of her.
Even if she hadn't sent the scarf, he would have known this was Blush's work. Nobody else could make him feel, and hear, and taste when he was looking at pictures like she could.
Only her.
Damn it, he was going to paddle her ass for doing this to him.
Kindle