Click on title to read blurb & excerpt
Most of these are erotic romance.
Books with a ♥ are milder-although still pretty hot.
Series & interconnected books can be found at the series page.
Mythe: Satyr from Mythe & Magick
My Lady ♥
If you're looking for information on the Mythe books, go here.
Latest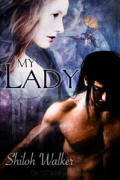 Kindle