Kindle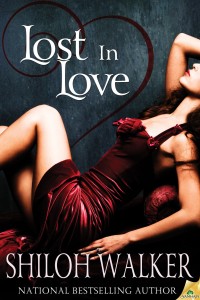 Amazon | Book Depository | Indiebound | BAMM | BN
Lost in Love…contains A Forever Kind of Love and Playing for Keeps
Second chances come a little harder.
Chase and Zoe were the high school golden couple. Football captain, cheerleader, prom royalty.
After graduation, though, Chase couldn't resist the urge to experience life outside their small town. He didn't exactly expect Zoe to wait twelve years for him, but now that he's back, he finds some small part of him hoping she did.
It's no big surprise she's married. The kick in the face is she married his best friend.
Zoe was devastated when Chase left, but she's filed those bittersweet memories under "Moved On".  She loves her life, and loves her husband. She has all she needs. And Chase keeps an honorable distance.
One cold, wet, miserable day, tragedy turns Zoe's world upside down. Chase never expected her to simply fall into his arms, but a man can dream. Except his dream doesn't include the fact that this time, she's the one hitting the road…and he's the one left behind.
Some days just went from bad to worse. They started out miserable and just went to outright fucked up as the day progressed.
This had been one of them—it had started out shitty, and hit the fucked-up stage well before lunch had rolled around. Chase hadn't even gotten around to eating lunch, something his hollow stomach wasn't about to let him forget.
He had been back home for six months.
Six lousy, awful months and every damn day, he thought about just leaving.  He could sell the car he'd bought, load up his bike and just leave.  One of the reasons he'd come back no longer existed…at least not for him.
And because of that, he'd deliberately created himself another reason—he'd bought the town's sole bookstore. He didn't know jackshit about running a business, although thank God the store's manager did and she'd been delighted to hang around, not to mention delighted to hang around with somebody who wasn't opposed to bringing the store into the current century.
But that was a nightmare of work and today was the pinnacle of those nightmares.
But Tiffany finally had things under control and as she chattered with customers, he slipped into the back office and took five seconds to swear under his breath.
"Lousy day," he said. "Lousy fucking day."
The day was done, he could go home, eat. Collapse.
No, he had some books to sort through, he remembered as he stared at the box sitting on his desk. Okay, go home, eat, sort through the books, then collapse.
Hefting the bag of books onto his shoulder, he headed out of the office and slipped out the back door.
The Book Nook had been Warren's only bookstore for as long as he could remember. Now it was his bookstore. It had gone up for sale just two days after he'd come back home, when he'd seriously been considering whether he'd should get the hell out or really trying making this place his home.
In the end, there hadn't been much of a contest.
Warren had always been home.
Even if he wanted to snarl or break something every time he saw Zoe and Roger together, he couldn't leave just for that. He hadn't come back just for Zoe. Even though part of him had hoped…
He'd come home because it was home.
Her being married—to his best fucking friend—didn't change that.
Get over it, he told himself. Just like he'd told himself a hundred times over the past few months. Easier said than done.
Easier said than done.
But he managed. So what if he hadn't gone out on a single date since he'd been here? It had only been six months.
It wasn't that he was obsessing over her…not exactly.
He was just not too interested in anybody else.
That was all.
He was busier than hell anyway. Trying to learn the ropes of being a business owner and running a bookstore. The only thing he'd previously known about bookstores was that heloved to read. On top of that, he had to bring it into a new century, keep it afloat during a struggling economy and it took plenty of time, plenty of energy.
When did he have time to think about dating?
He dumped the books in the back of his car, thinking they could wait a few minutes when he got home. The bottle of wine he had in the fridge was the first thing he'd open. Not a book, not the mail, not the bills, not something to eat.
The wine. Then maybe he'd start a fire. A nice way to end a rainy day.
The cold, wet drizzle had lasted throughout the day—it was great for bringing in customers, but now it was turning into a downpour. When he got home, he might call Tiffany and tell her she could close up if she wanted. This wasn't the sort of weather that would bring out the customers.
People wanted to spend nights like this inside, curled up with a good book, a movie, a lover…
Zoe…
Sometimes, he thought he was just used to looking for her…everywhere.
Maybe that was why he saw her so easily.
Sitting on a bench on the green, even thought the weather wasn't exactly ideal. Mid-forties and the rain was colder than ice.
Sitting there, staring at nothing.
Zoe.
Slamming on the brakes, he stared at her.
She didn't notice. She was staring straight ahead, so still, so motionless. She could have been a statue. Her hair was wet, hanging down her back in dark gold ropes, a few tendrils curling around her heart-shaped face. Her mouth was unsmiling, her eyes wide and unblinking.
His heart bumped against his ribcage and he pulled his car over to the side of the road and got out.
In the past few months, they'd bumped into each other a few times. Always casual, and every single time, Roger had been there.
Not once had he been alone with her.
Not once had he been with her without Roger's presence to serve as a buffer.
Chase couldn't have said if that was a good thing or bad thing.
Now, as he crouched down in front of her, he realized he felt about as nervous as he had the first time he'd asked her out. How many years ago? Eighteen years. Eighteen years ago now…they'd been together almost all through high school.
"Zoe?"
She blinked slowly and shifted her eyes to his face. A slow, polite smile tugged at her lips and she murmured, "Hello, Chase. How are you this evening?"
He peered up at the sky and then looked back at her. Rain clung to her lashes, dripped off her nose. She didn't seem to notice.
"Well, kind of wet." Very wet. The rain was already snaking down past his collar, inside his shirt to trickle down his spine, and it was so damn cold. "Zoe, what are you doing sitting out here? It's pouring out. Are you okay? Is…is your mom all right?"
He'd heard about her mother. Shit, that had to be hell. Zoe's relationship with her hadn't ever been easy, and now the woman was in a nursing home because she couldn't take care of herself anymore. Couldn't take care of herself, and there was no way she'd let Zoe do it, if even half of the stories he heard were true. She'd never been a pleasant woman, but lately, it was worse.
Zoe just stared at him. In the poor light, he could hardly make out her eyes, but he knew that soft, pale green better than he knew the color of his own eyes. They were too dark, the pupils large and dilated…shock, he realized.
Reaching out, he touched her hand. "Zoe?" he said quietly.
She blinked, a slow drift of her lashes over her eyes and then she looked down at his hand touching hers. When she looked up at him, there was some sense of awareness in her eyes, but only just. "Hello, Chase," she said, again.
Hello, Chase.
Like she had bumped into him on the street.
Not like he'd found her sitting in the middle of downpour, sitting alone in the square. Scowling, he closed his fingers around her wrist and tugged as he stood. "Come on, I'm taking you home."
He was half-prepared for her to argue.
There was a time when she would have.
But she followed along behind him, not saying a word.
He wasn't sure what bothered him more—her silence now, or the way he'd found her.
Order
Kindle | Nook | Samhain | Kobo | Indiebound Ebooks
Playing for Keeps
Jacob has always been part of Dana Cochran's life. They've lived next door to each other for years, they've dated on and off and now they see each other through work.
But their timing has just never been right, and when Dana invites Jacob over to play with her and Mason Caldwell…things get complicated.
Doctor Jacob McCoy loves Dana. So much so, that he's even willing to share her with Mason Caldwell. But a red-hot threesome isn't all that Jacob wants from Dana.
When tragedy strikes their fledging relationship, Jacob has to convince Dana that pushing him away isn't the answer.
He wants to be in her life forever. And some things are worth fighting for.
If he kept looking at her, he was going to do something stupid.
Of course, when it came to Dana, he'd been doing stupid shit for half of his life, it seemed.
Need and love could make a man do some seriously strangely things. Like move back into a home he hated, just so he could be near when she visited her parents on break. Things like taking her up on the sassy challenge he'd seen in her eyes one hot, stormy night. Things like sharing her with an overly cocky, egotistical bastard who didn't have the sense to appreciate Dana for the woman she was.
It had been storming that first night when he'd gone to check on Dana. Her electricity had gone out during the storm and he hadn't realized she had company. He ended up walking around the house when she hadn't answered the door and had found her on the back porch, slightly tipsy, wearing nothing but a T-shirt made transparent by the rain and a wide, wicked smile as she smiled up at Mason Caldwell's face.
She hadn't noticed him right away.
If Mason hadn't said anything, Jake could have walked away, suffering nothing more than heartache and jealousy. Well, that and the need to pummel the man's face until that cocky grin was nothing more than a memory.
But Mason had seen him, dipped his head to whisper in Dana's ear. Dana had looked at him and that was all it had taken. He'd been lost to her…but then he'd been lost to her pretty much from the beginning.
*
Rain pelted down all around, soaking his hair, soaking through his clothes, puddling under his feet as he came to a stop at the back of Dana's house.
She was soaked through, too, but she did things for that wet T-shirt that were just plain torture. Her nipples thrust against the white cotton, hard and erect, and the wet material clung to the slopes of her breasts, her trim torso and flat belly, clinging to her hips and making it all too clear that she wasn't wearing anything under the T-shirt. It stopped at her thighs and left the long, golden length of her legs bare.
Water droplets clung to her legs as she sauntered his way, smiling at him through the rain. "Hey, Jake…"
"Sorry. Wanted to make sure you were okay." Forcing the words past his tight throat, he met her pale golden gaze and shook his head, backing away. "The…ah…the storm. It's knocked out all the power…"
Mason, the guy she'd been dating off and on since the past summer, slipped up behind her and wrapped his arms around her waist. Over her shoulder, Mason smiled at him, apparently not the least bit concerned about Dana's all-but-bare breasts, or the fact that Jake was all but drooling over them.
Dana leaned back against Mason and pressed a kiss to his jaw. "Hmmmm…I'm just fine, Jake." She slipped away from Mason and came towards him with a smile on her face. She stopped just a few feet away, and tipped her head back to the sky. She wobbled on her legs and ending up falling against Mason with a giggle. "I love thunderstorms."
He knew that. She'd always loved thunderstorms, even when they'd been children and other kids would run inside to hide. Dana's parents would have to drag her in out of the rain and watched her like crazy to make sure she didn't slip back outside.
Smoothing a hand up her side, Mason steadied Dana on her feet before grinning in Jake's direction. "We were playing truth and dare." There was a smirk in Mason's eyes, a look that made it more than clear that he knew what Jake was thinking, even if Dana was blind to it.
Just barely, he managed to keep from sneering at Mason as he replied, "I stopped playing games a long time ago."
Dana giggled and wiggled free from Mason's arms again. "You should play more, Jake." She stumbled against him, braced her hands on his chest. Lifting her face to him, she smiled and pressed her lips to his. "Wanna play with us?"
Us? Reaching up, he closed his fingers over her upper arms, eased a few inches between them. Hell, he'd play with her any day of the week if she'd stopped seeing him as her friend, her old boyfriend from high school. "You look like you've done enough playing for a while. How much have you had to drink?"
She pursed her lips and cocked her head. "Two margaritas. One. Two."
Despite the jealous anger burning inside him, he had to laugh. "You're such a cheap drunk." He slanted a look over her shoulder, met Mason's gaze. "I take it you're not worried about the electricity being out."
Mason grinned. "We're doing just fine."
Nodding, he let go of Dana's arms but before he could leave, she threw her arms around his neck. "Awww, don't go, Jake."
Then she kissed him.
Hot, full-on and hungry, she kissed him. Her breasts went flat against his chest, her hands tangled in his hair and as rain pelted down around them, she just about turned him into a raving madman. Quick, hungry kisses, soft, strong hands pushed under his shirt and teased the skin of his back. Her soft belly cradled his cock. She moaned into his mouth and then sank her teeth into his lower lip. "Come on, Jake…play with us. Just while the storm lasts…I dare you."
While the storm lasts…
He reached up and wrapped his fingers around her wrists, tugged them down. "Dana, you're drunk."
She poked her lip out in a sexy pout. "Not that drunk…I just want to play." Her gaze slid down, lingered on his cock, stiff as a poker and so damned hot and hard he hurt with it. "You wanna play, too, Jake. I can tell."
Tearing his gaze away from her face, he glared at Mason. "You want to give me a hand here?"
Mason shrugged, slid a hand down his chest. Rain continued to pour down on them in a deluge, running in rivulets into their eyes. "She's not drunk, McCoy. She had two margaritas and the last one was before the storm started. A good half-hour." His bare feet were quiet on the grass as he came up behind them, cuddling his front against Dana's all-but-naked back.
The soaking wet T-shirt she wore was no barrier at all. Not a barrier to the eyes, or anything else. She pressed against him and through it, Jake could feel the hot, hard tips of her nipples stabbing into his chest.
"Play with us," she whispered against his lips. She licked rain from his mouth and slid her hands under his shirt, easing it up. "Play…"
Jake was a patient man. But he had his limits. As Dana met his eyes, he reached the end of his. Placing his hands against her sides, he caught the soaking wet cotton of her T-shirt, stripping it upward. "What kind of game are we going to play, pretty girl?" he whispered, dipping his head and raking his teeth along the line of her neck.
She laughed and fisted her hands in his hair. "Whatever kind we want."
Samhain | Nook Store | Kindle | Kobo | Indiebound Ebooks
releasing in print Summer 2013