Kindle
a Hunters world short story

One year ago, Sara's twin brother and his wife were brutally murdered. By vampires, creatures that can't exist. But Sara knows better and she's on a mission to kill as many as she can…until she comes across a man from her past.

This short story was originally published in the Mammoth Book of Vampire Romance…The biggest names in paranormal romance have created a fascinating array of 30 short stories of hot blood and inhuman passions that will leave you thirsting for more.

Authors include Sherri Erwin, Caitlin R. Kiernan, Jenna Black, Jenna Maclaine, Raven Hart, Delilah Devlin, Keri Arthur, Kimberly Raye, Alexis Morgan, Lilith Saintcrow, C.T. Adams, Cathy Clamp, Susan Sizemore, Dina James, Colleen Gleason, Barbara Emrys, Savannah Russe, Shiloh Walker, Vicki Pettersson, Rebecca York, Rachel Vincent, Amanda Ashley, Karen Chance, and Nancy Holder.

These ain't your mother's vampires!
"What are you doing here, Wyatt?" she asked again, her voice hoarse. She asked—even though a part of her already knew the answer. "How did you know I was here?"
Last year, just days after Joey had been buried, Sara had met a sexy stranger with eyes the color of amber, silken black hair and a wicked smile. She wasn't the type to pick up men in bars, wasn't the type to go back to a hotel with a guy she'd known only hours. But she'd done so with Wyatt…and she remembered it all in vivid detail.
She'd spent one week with him, one week in which they rarely left his hotel room. On the seventh day, she'd slipped out of the room while he'd been in the shower and she hadn't seen him since.
She'd thought about him way too often for her peace of mind and what few dreams she had that weren't nightmares had been centered around him–hot, sweaty dreams that left her aching and needy and lonely when she woke in her solitary bed. Left her wishing she could be different, somehow, that she could move past the mission she'd set for herself.
She thought of him–wondered if he ever thought of her, and figured the uber-sexy man had long since forgotten her.
But now he stood in before her, watching her with that grim look on his face. "I'm here because of you, Sara."
"Why?" She inched backward, deciding she'd forget about her bag. The gun. The crossbow. She could get new weapons.
His lids drooped and when he looked at her again, terror wrapped an icy fist around her heart. His amber eyes glowed.
When he opened his mouth to speak, she barely heard him say, "I think you know why."
She was too busy staring at his fangs.
Print
Borders | BAMM | B & N | Book Depository | IndieBound | Amazon
| Powell's
Hunter's Choice can also be purchased on its own in ebook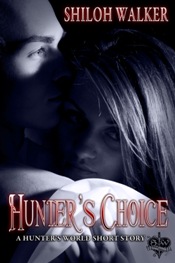 Kindle| Nook | Smashwords