Kindle
"You . . ."

Her pupils spiked, flared, and she sucked in a desperate breath.

She swayed closer, and logically, Joss knew it wasn't because she was suddenly overcome, like he was. She didn't know him—he would have known it if she had. But she was closer, and she was there, and he could feel the warmth of her, feel her, and fuck it, he was just too weak.

Groaning, he dipped his head and pressed his lips to hers.

He was fully prepared for the fact that she was going to haul off and belt him.

He was fully prepared for her to jerk away and scream.

What he wasn't prepared for was for her to sigh against his lips, then open her mouth for him.

What he wasn't prepared for was for her hands to come up, curl in the front of his shirt, tugging him closer.

But that was what she did, and the top of his head almost came off as he caught the first hint of her taste.

The tip of her tongue stroked along his lower lip before pushing into his mouth. He nipped it gently and returned the favor, stroking her tongue with his, tracing the outline of her mouth with his. She moved closer, her hands moving down to his waist, tugging him closer still, and Joss figured maybe it might be okay to touch her, too.

Fisting one hand in the back of her shirt, he used the other hand on her braid and tugged, angled her head farther back. She was long, and lean, fitting so perfectly against him, and he fucking loved it.

Long and lean, but soft, too, cradling him so perfectly. He could feel the curve of her belly, her breasts, all of her and it was fan-fucking-tastic. Under her shirt, he could feel the silken warmth of her back, and he wanted to drag the shirt away, learn all the curves and hollows and sweet delights of her body.

More…he needed more. Couldn't wait to peel her out of those clothes and get her naked—

"Mommy, look, they're kissing!"…. read more…
BN | BAMM | Indiebound | Amazon | Book Depository
Many of you know that back in the fall, I lost my mind and did some bad things on the STOLEN blog tour.
I apologize.  I did a bad, bad thing and I learned my lesson.  I won't break into the houses of my friends and hold their secrets for hostage ever again (unless it's a really, really good book) and to show everybody how sorry I am, I'm doing a making amends tour where I publicly apologize on the blogs…um, most of the blogs…and eat crow and try to fix things instead of steal and cause mayhem.
So, how do I fix things…hmmm… I know!!! Valentine's Day is coming up…A good thing to fix! Lovers!  Let's reunite some lovers…(sensing a theme here?  First I stole things with STOLEN, now I'm reuniting things with THE REUNITED…work with me…)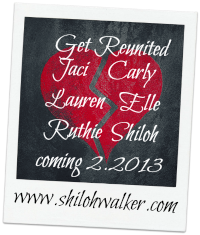 This time around, I actually asked for participation and asked nicely, and I asked for prizes instead of blackmailing…see?  I'm learning!
Want to know some of the people going along with me this time?
And yes…we are doing prizes and we're talking about lovers.  The most important star-crossed lovers of our time, of all time.  Han Solo and Princess Leia.  Romeo and Juliet. Kermit and Miss Piggy.
Want to know what you can win?  How about some book money?  How about some books? Maybe even some sweets and treats and goodies?
Some of the prizes…
$50 GC to Amazon, BN, BAMM or ARe (Winner's Choice) from Shiloh Walker
SERENDIPITY, DESTINY or KARMA by by Carly Phillips – book or eBook
One of Five Downloads of Ruthie Knox's HOW TO MISBEHAVE
ARC of THROWN BY A CURVE from Jaci Burton
The BOUND BY MAGICK books from Lauren Dane
STOLEN by Shiloh Walker
MIDNIGHT ALIAS from Elle Kennedy
Check back with us the last week of January through the first week of February and see how I'm trying to fix things, rather than break things. (I'll break things in April…that's when WRECKED comes out.)