Kindle
It's been a couple of years, I think, since they were available.
We kept the price as low as we could, two books for $12.99.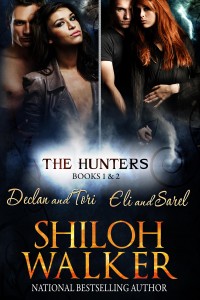 The other Hunter books will follow, but I don't know when.  For now, it's available for pre-order on Amazon, not sure if we are going to be able to get it for pre-order elsewhere… something we're working on.  More info here…
FYI, I've had people ask if I'm going to reconsider pursuing the series…no.  I'm not. Sales had slumped off and unless some sort of absolute miracle happened, it's not feasible on my end.  I'm sorry. I hope you understand.