From Night Blade…(written by my other me) due out soon.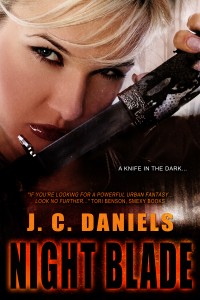 "Close?" He pressed his hand to my collarbone, splaying it across my skin so that I felt the very heat of it rushing through me. "He had to fucking be touching you?"
"Close quarter detail sadly means just that—cloaking doesn't work otherwise." I plucked at the hem of my shirt. I really should have had that shower—and burned the damn clothes. "Once the job was over, I kicked the asshole in the head. It wasn't enough."
Damon's eyes flashed. Light reflected back at me. Cat's eyes—
I held his gaze. "This wasn't a job I picked. I had to take it—lives are at stake—and once it's done, I'm going to bloody somebody over it. But for now, I have to finish it."
"And this?" he asked, fisting his hand in the front of my shirt, tugging me close. "Does this have to happen again? You stand there smelling of another man again? Kit…I—shit, Kit, this is gutting me."
I curled my hand around his wrist. "If I could tell you what it was doing to me, I would."
His eyes searched mine. "Why can't you?"
"If I tell anybody, Banner is going to know. And people die. I can't do that, Damon. I can't." I can't let you die—
He groaned and pressed his forehead to mine.
Lauren Dane
Shiloh Walker
Delilah Devlin
Jody Wallace
TJ Michaels
Leah Braemel
McKenna Jeffries
Taige Crenshaw
Felicity Heaton
Caris Roane
Myla Jackson
HelenKay Dimon