Kindle
So we're staying up tonight (as in, we're sleeping outside and the alarm is set for 2:30) in hopes of seeing the meteor shower.
But it's summer…and the mosquitoes are horrid.
HOWEVER…I tried out this awesome tip from my aunt.  I dunno where she heard it, but we tried it last night when we had a campfire. It was like in the 60s and perfect weather. And the tip worked.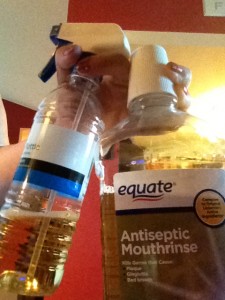 Supposedly, if you use Listerine (I bought the generic) and put it in a spray bottle and apply it to the grass, it can help repel mosquitoes.  I tried it.  Didn't get a single bite.  Neither did the kids or my guy and we were out for hours.  It has to be the brown, nasty Listerine, though.
So we're staying out, and hopefully we won't get eaten alive as we watch for the meteor shower.