Kindle
Instead of a 56, I'm doing a 13.  It's the 13.  I'm doing the 13th page.  The 13th line.  And here's the cover.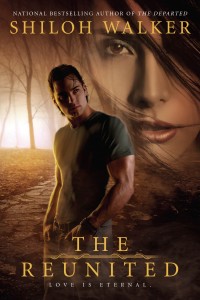 It's a snippet, starting at the 13th line, from The Reunited, due out in January.
If there were any ghosts to be found, they were up in the newer part.  Not here.  Not that he could really see any ghosts, but that remnant energy was just a buzz that a lot of psychics were sensitive to and he wasn't feeling it here.

His phone vibrated again.  And again, indicating that whoever was calling was not giving up.  Scowling, he pulled it out, thinking he should have left the damn thing in his car.  But old habits died hard.

It wasn't a surprise to see Taylor Jones' name pop up on the screen.  But why in the hell was the boss calling him?  He had a few days off.  Not that Taylor Jones would let a minor detail like that get in the way.

Instead of answering it, he hit ignore and went to text him.

Busy.  What's up? Once he'd sent the message, he brushed a few leaves off the stoop, some debris. Once he'd almost brought flowers.

But he hadn't. Because something–not a memory exactly–but something…

I would rather see the flowers growing than to have somebody cut them so they wither and die…
Want to do the 13 on the 13th?
Post the 13th line from the 13th page of whatever book you have handy!