Kindle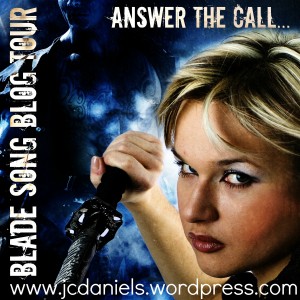 So it's another day, and another stop on the blog tour.
Today I'm over at Missyjane's with an excerpt.  FYI, if you visit the blogs who are participating in the rafflecopter deal, leaving comments counts as another entry in the contest.  :)  Easy entries.  You can get multiple entries that way, (but only one comment per blog.)
Some pretty nice reviews are going up for Blade Song over at Goodreads, if you'd like to check them out.
Just a REMINDER to those who don't normally read UF. This is NOT a romance. Yes, there is a romantic thread. Yes, there is a hot guy in it. (I kinda loved the character a little, but no, I'm not telling you more than that.) If you like paranormal romance, you might enjoy this. But please don't expect this to be like my typical romances.