Kindle
contest closed.  Winner to be posted 8.10.12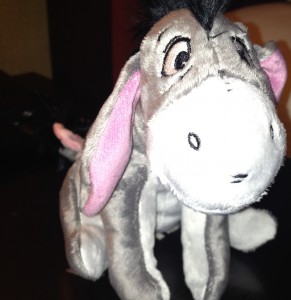 From Gunmetal Magic by Ilona Andrews (this is an old snippet, swiped from her blog)
"I have had it with this shit.  Woken up, in the middle of the night, didn't get any sleep, rode across the fucking city, nu na cherta mne ato nuzhno*."  He waved his hand in front of his face.  "Damn magic everywhere, making me sneeze."

The monster next to him opened its mouth.  Roman whacked it with the top of his staff on the nose.  "You – shut up."

The beast looked like a cat who got popped with a newspaper: half-shock, half-outrage.  Roman looked the two of us over.  "What's the matter with you two?"

The magic melted, taking the visions with it.   My mind struggled to formulate a coherent thought, any thought.  I opened my mouth.  "Your pants have Eeyore on them."

"I like Eeyore.  He is sensible.  A sober look on life never hurt anyone."
I fell in love with Roman with this line.  Yeah, yeah.  The book is about Raphael and Andrea, but Roman is awesome, too.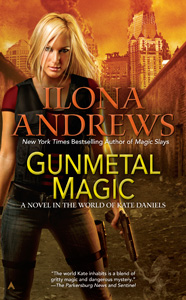 Want to win Eeyore & Roman? (and Andrea and Raphael)?
I'm giving away an unsigned copy of Gunmetal Magic and Eeyore. The book works fine as a standalone, so if you haven't read any of the Kate Daniels' books (and why haven't you?) this is a good place to get your feet wet.  It's awesome.  You want to read this.  Want to win?
Just tell me your favorite Winnie the Pooh character…if you can't think of one, tell me your favorite UF character.  If you can't think of one…um, your favorite character, period. O.O
I'll draw one name at random and post the winner here next week.  A quick run-down on my contest rules…you must check back to see if you've won.  That's how the winner is notified, and I don't redraw names. DO NOT POST TO TWITTERSWEEPS/SWEEPSTAKES SITES…if this happens, I can and likely will end the contest without drawing a winner.  Open internationally. One entry per household. Void where prohibited, blah, blah, blah…read the rest of the rules here.  FYI, entering the contest means if you have read and agreed to the rules.