Kindle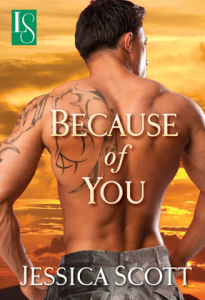 Guest Blogger…Jessica Scott
All questions were collected from visitors to my blog or FB…
From Doris S: I can't hold being Army against you(Air Force here)….but do you ever sleep?
A) Too funny. I sleep all the time. I'm blessed with my mom's energy level so I'm typically an early riser (no thanks to my children who refuse to let me sleep in on weekends) and I'm usually asleep by about 10 or 11. Some days are incredibly busy and tiring, others not so much. But coffee helps tremendously.
From Caroline D:  Who is your hero based on and where can your twitter followers in the UK get your book we've been waiting for this for ages and ages…
A) Shane Garrison isn't based on any one person. He's kind of an amalgamation of a whole bunch of guys I've met over the years, the strong, quiet type A army guy who doesn't take any crap from anyone. He's the kind of guy that makes work easy in the army because he gives good direction and takes charge to make sure us officer types don't screw things up too badly.
From Emma D: If money wasn't an object what would be the ideal holiday?
A) Ooh, good question. Hmm. Maybe a month in Europe traveling. I was stationed in Germany when I was a private in the late 90s and it was amazing. I'd love to go back and just travel more. I love the history and the cool part about Europe is that damn near everything is less than 6 hours away on the main continent.
From Mary G: When did she know she wanted to write or even know she could write well enough to be published?
A) I decided in 2007 to officially try to get published. I've always written but in 2007, I finally actually wrote a book that had the end on it. Little did I know how much work goes into actually writing and more importantly, revising, a book.
From TuraLura: How did you meet your husband?
A) Well, this is kind of a long story but the short version he was a friend of a friend and we met in Germany at hang out called the Crazy Feet Discotheque. We didn't know we'd end up married but things have a funny way of working themselves out in the end.
Bio: Jessica Scott is a career army officer, mother of two daughters, three cats and three dogs, wife to a career NCO and wrangler of all things stuffed and fluffy. She is a terrible cook and even worse housekeeper, but she's a pretty good shot with her assigned weapon and someone liked some of the stuff she wrote. Somehow, her children are pretty well adjusted and her husband still loves her, despite burned water and a messy house.  No zhu zhu pets were harmed in the writing of this book.
 BECAUSE OF YOU by Jessica Scott – Excerpt:
Someone solid and heavy knocked into her and sloshed beer down the front of her blouse. A strong vise latched around her arm to steady her. She glanced up into the lightest grey eyes she'd ever seen. Grey eyes that she'd seen before but never this close. In the dimly lit bar, they looked almost silver.
Shane Garrison. A friend of Trent's. Jen had seen him around before, but had never actually spoken to him. He'd always seemed big, but up close he was massive. Black tribal tattoos twisted up both of his wrists, writhing up his forearms to disappear beneath the frayed edge of a green T-shirt. And who knew that bald could be so sexy in the right lighting? Had to be the rough jaw that did it.
"Sorry. You okay?" He leaned close to her ear so he didn't have to shout. Jen shivered as his breath brushed across her skin. He stood closer to her now than any man other than a doctor had in over a year. The heat from his body caressed her skin, and she could smell him, a mixture of spice and smoke and something entirely male. She swallowed and tried to find her voice.
"I'm fine. Thanks. This place is crowded." She knew better than this. She pulled her arm free and tugged the clinging blouse away from her skin, suddenly afraid that he would see the scars on her chest through the wet material.
As the words left her lips, someone jostled her into him again. He tried to steady her but she fell against him anyway.
Time hung suspended and she stood in this man's embrace, feeling protected and safe and deliciously unflawed. It was impossible to miss the hard angles of his body. For one brief fantasy moment, she imagined what it would feel like if this dangerous and sexy man lowered his mouth to hers.
About her book…
From the war-torn streets of Baghdad to the bittersweet comforts of the home front, two wounded hearts navigate the battlefield of coming home from war in this explosive eBook original from newcomer Jessica Scott.

Keeping his men alive is all that matters to Sergeant First Class Shane Garrison. But meeting Jen St. James the night before his latest deployment makes Shane wonder if there's more to life than war. He leaves for Iraq remembering a single kiss with a woman he'll never see again—until a near fatal attack lands him back at home and in her care.

Jen has survived her own brush with death and endured its scars. And yet there's a fire in Shane that makes Jen forget all about her past. He may be her patient, but when this warrior looks her in the eyes, she feels—for the first time in a long time—like a woman. Shane is too proud to ask for help, but for Jen, caring for him is more than a duty—it's a need. And as Jen guides Shane through the fires of healing, she finds something she never expected—her deepest desire.